Gini Ingram's new logo is fresh out of the BrandCo oven! Our team just put the final garnish atop the logotype for the Lafayette, Louisiana based Realtor®. Gini is a newer agent, and as such, needed help establishing her brand. During our initial consultation, we talked about really trying to capture the essence of the area she lives and works in. We discussed traditional Cajun imagery like the Acadian style housing that was very popular in the area, as well as the symbolic fleur de lis. The most important thing was that the logo feel warm, inviting, and make people feel comfortable. Gini Ingram's brand is all about southern hospitality, and having her clients feel right at home with her.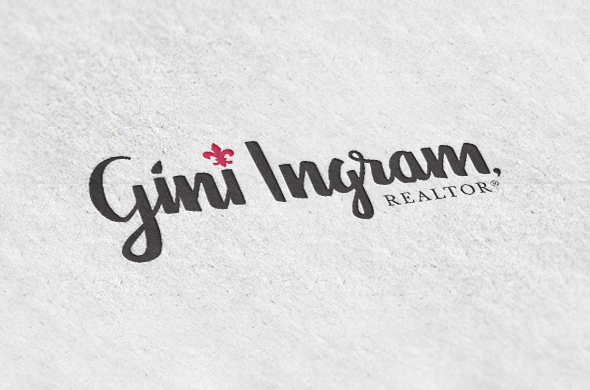 We knew that Gini would be interested in seeing script options for her name. So, we broke out our fancy watercolor pens and some crisp, white paper and wrote her name over and over and over again. Once we had a few options to our liking, we scanned the options into the computer and began fleshing the typography out. Once the script was just right, we added the traditional fleur de lis as a dot on one of the i's.
Using the word Realtor® in a logo can be tricky, so we worked within the National Association of Realtors guidelines to make sure that Gini's new look was in compliance with their rules and regulations. Through our investigations we created a look that both satisfied the NAR, as well as brought that warmth and personality that Gini wanted all along.