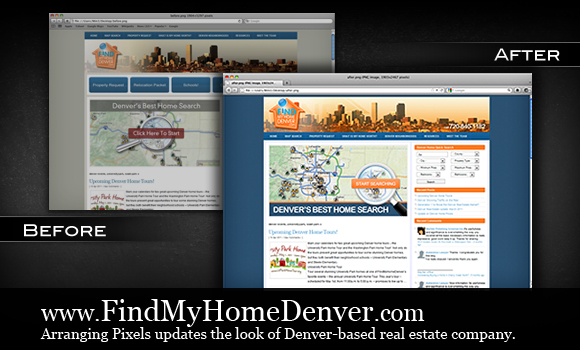 When Drew Armbruster approached Arranging Pixels last month he was faced with a dilemma.  He had spent a ton of money on building a WordPress website, but he was not seeing the conversion rates he had hoped for.
After reviewing the website analytics and conversions for a few weeks we knew exactly what FindMyHomeDenver.com needed.  A simple facelift!
The facelift included:
Fresh new color palate to match the logo
Clearer call to action buttons on the homepage
A reduction in the number of navigation choices
Relocating the navigation to a more intuitive place.
We relaunched the new FindMyHomeDenver.com just over a week or so and Drew is  a happy camper… in fact he said "the site has been doing amazing since you finished the new look!!"
If you're looking for a home in Denver- take a look at www.findmyhomedenver.com and give Drew a call!