Before we get started it is important for your website to have a goal, that is, what is it you desire from your users?  That may be to gather email addresses, capture leads, or get your visitor to enter their credit card information to buy something.
A call to action makes use of a banner, button, or some kind of graphic or text to lead your visitor down a predetermined path that results in them completing your goal. In the instance of real estate, a call to action to could be as simple as a button on the home page that says "start your home search" or "find your home value."
So, how do we get a functional call to action? These are the some best practices:
Know a need – When first thinking about creating a call to action, you need to have a purpose in mind. Essentially, a need that you want to fill for your potential customer. Most call to actions make use of terminology like, "Buy this now!" or "Sell your home with us." These are clear paths that you can start your new customer. Also, you will know how to fill their need.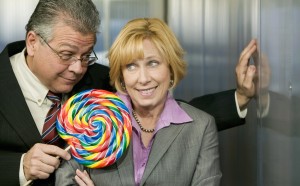 Sweeten the deal – What's in it for them? Why should they click that button, in other words? These people need to know why they should click that button on your site rather than someone else's. Maybe you don't take the normal amount of commission when selling a home. Or, maybe you give an amazing gift at closing. Let them know what they're going to get out of their click.
Focus the language – Just as when creating a resume, everyone is always told to use action words. The same applies in this case. The focus is what you want them to do, not what you want from them. "Call, Buy, Register, Subscribe, Donate" are largely used active words. Essentially, they make the button say "Do This!"
Put it where it matters – This is easier said than done. The more important the Call to Action, the bigger it should be. Not only that, give it a contrasting color that will bring even more attention to itself. Lastly, it will need to have some space. Don't butt it up against something else of less importance, this is distracting. These things are usually best left up to a designer because, honestly, they know what they're doing and do it for a reason.
Call to actions are an essential piece to having a successful lead-generating website. It is the easiest way to help steer the potential customer into your new client.
Do you have any best practices that you have found that work best for you? Please, feel free to share!