BrandCo. celebrated it's 16th birthday and brought it back with another awesome Spirit Week. See below of each day's festivities and for the low down on the get-ups, grub, and beverages that we enjoyed each day.
MIMOSA MONDAY – June 8th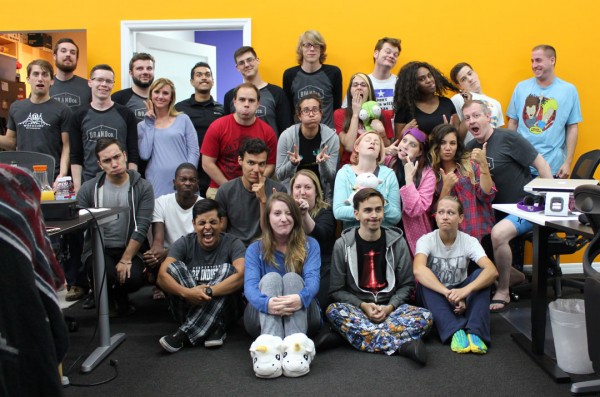 We started off the week off in our pajamas and slippers! To make the beginning of the week even better, a healthy glass or two of some champagne-spiked Vitamin C in the morning was provided. The breakfast of Champions! The office was filled with very comfy co workers sporting their pjs, squeaking around in some of the coolest slippers around.
TAWKWARD TUESDAY – June 9th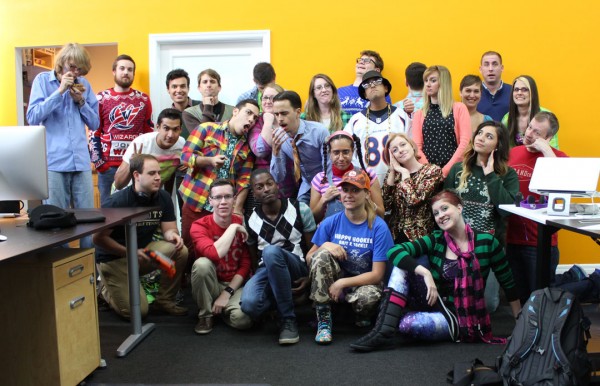 On Tuesday, we dusted off that hideous sweater our Grandma gave us that we've been itchin' to have an excuse to wear. Some even sported their latest Goodwill monstrosity. We're talking patterns on patterns! We also had to take advantage of of our amazing outfits by doing a couple of "awkward" prom/family style photos. Lunch was happily catered in by Tijuana Flats! Why? Because purple.
WE'LL NEVER GROW UP WEDNESDAY – June 10th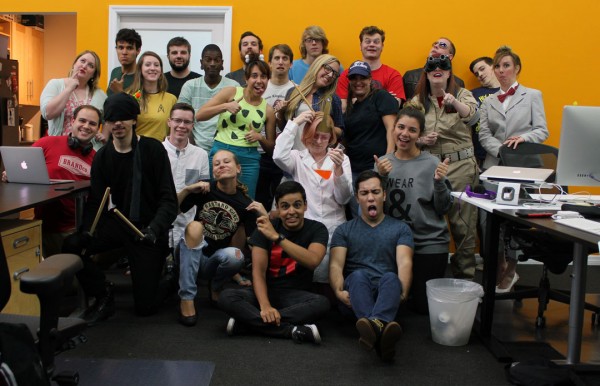 For the Hump Day of Spirit Week, our team decided that never wanted to grow up. We played dress up as our favorite television characters, like Pebbles or Ghostbusters. We had everything show up that day, including PeeWee, the Fonz, Wayne & Garth, a Trekkie, Daredevil, and many more! This day we also enjoyed enjoy a super delicious ice cream social.
FLORIDIAN TRANSPLANT THURSDAY – June 11th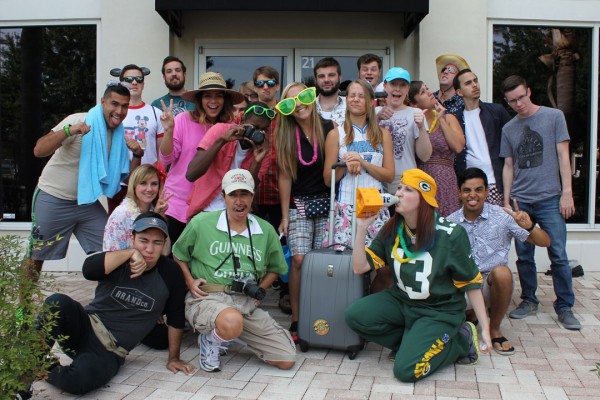 Snowbirds, Foreigners, Spring breakers. We love to hate on them as Floridians living in one of the best places to vacation in the world.  For Thursday, we broke out the lawn chairs and the Hawaiian shirts (not to mention those fashionable fanny packs!) and devoured some yummy BBQ catered in from Cecil's.
BYOBCo. AND CAKE, CAKE, CAKE FRIDAY – June 12th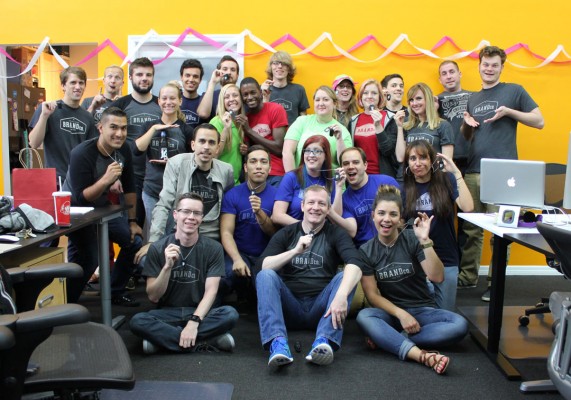 For the last day of Sprit Week, we happily sported those ever classy BCo tees! We celebrated the day with a great gift back provided by our Party Planning Committee that included one-of-a-kind BrandCo dog tags personalized for each team member – including their position name and hire date! No true Birthday celebration is complete without cake and this one was ON POINT! What a great way to finish out the week!
Following Spirit week, we took time out of the day for the Party Planning Committee to present the entire company with awards and superlatives. You can see the full list of all given out by clicking here!