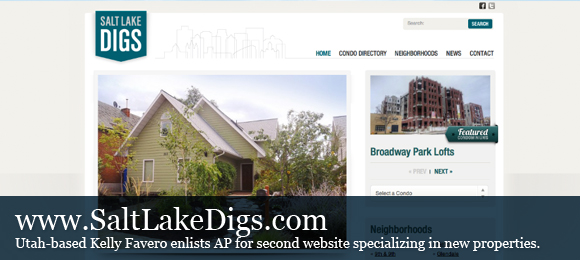 Arranging Pixels created a remarkable website for REALTOR® Kelly Favero last year and this year he is back for more.
The Utah-based real state agent trusted Arranging Pixels to build him an even bigger online presence. This time delivering a community focused site that highlights Kelly's passion for photography and creates a unique experience for his clients. The design of this Custom WordPress Website showcases the architecture of Salt Lake City and invites the visitors into some of the most visually amazing properties in town.
The new site has a simplistic look but don't let that fool you as it is filled with lots of content Kelly can update quickly. One particularly interesting feature about SaltLakeDigs.com is that the blog feeds directly into the homepage presenting new, relevant information to visitors immediately. The content is also divided into different categories in the "News" tab so you can browse through the different community posts with ease. Kelly's site also features an interactive map of all the local communities of Salt Lake City headlining properties and linking the visitors to an IDX, creating a very engaging experience.
Make sure to visit SaltLakeDigs.com and if you ever run into Kelly, be sure to compliment his photography.