Vincenzo, fondly known as Vinny, has been an awesome addition to the team here at BrandCo. He constantly pushes the boundaries of his programming knowledge, bringing new and exciting things to our business. He's also a lover of using the command line to perform functions. Yes, that's quite fancy, indeed. Let's take a moment to learn more about Vinny.
What do you do here?
I am a software developer.
What got you into developing / design?
I like solving problems and engineering solutions. Also I get a thrill from the process of creating a product.
If your co-workers could describe you in 3 words…
No clue
Favorite resource / place for inspiration / brand: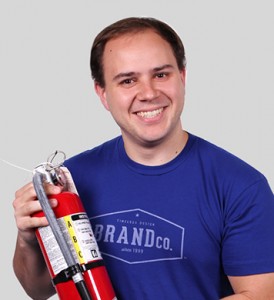 Apple has always been a place of inspiration. The way they make their products and present them has been above the average for a long time now. In general though, I like to draw inspiration from the harmony in nature.
Best thing about BrandCo:
The environment is the best thing. I feel like I can grow here.
If you had a super power…
Telepathic probably. If I could read minds and communicate telepathically, I could learn much much more much much faster which is my life goal, to keep learning.
What is the defining cartoon of your childhood?
I am not sure since I watched a lot of Cartoon Network, but the first one that comes to mind is Dragon Ball Z. If a marathon was on you could bet I was watching it. I think the thing I liked the most about it was how the characters endured through hard times.
Any special awards / milestones / fun facts about you?
The biggest award that I am most proud of was the honorable mentions I received on a mathematics modeling competition. Getting honorable mentions means that our model was a legitimate one meaning that it holds the weight of an actual research paper (the competition happened in 4 days). Even though I do programming I am a bit more into pure mathematics. Fun facts: I play table tennis competitively at UCF, and I like acting (especially voice acting). Typically when I drive alone I like to do voices like the movie guy voice.
When you're not at BrandCo, what are you up to? (Interests, Hobbies)
Right now I don't have much time to do any particular hobbies like training for triathlons, reading, or cooking so I cope by playing video games. I enjoy playing Halo 5 for the most part :P.
The one thing you'd like to share about yourself that maybe people don't know:
I am very quiet, but that doesn't mean I am shy. If I look angry I am not; I am just not used to smiling. I am a very happy person, and it takes a lot to push me over the edge.
Stay tuned for another Employee Spotlight coming up soon!